THEME OF THE FUTURE

Jan 23, 2021
Meet Jamie Dawes and Tom Robinson, a couple from East Vancouver who have both taken this year to turn their passions into careers. Their brands are creating garments for future thinkers – for those who care about sustainability, want unique pieces, and want to ensure that their clothes are produced locally and ethically.
Their products, and the stories they tell, are helping shape both the ethos and style we are seeing cultivated in Vancouver right now.
I met Jamie and Tom a couple years ago, like how I meet most people in this neighborhood, out on the street while I was taking photos. The two have a knack for making vintage clothing look high fashion. The day I ran into them, they had just come back from doing a bit of thrift shopping. Tom, with his find in hand, a mini baseball bat, cheekily looked over at Jamie's new flower vase. We admired the polarity of their scores for a few moments before we took some photos and went our separate ways. Since meeting the two, I have followed their artwork closely and was excited to see they were breaking away from their previous paths with new projects back in February 2020. This September, I had the opportunity to sit with both Tom and Jamie while they worked to discuss how things were going since starting their companies.
I spoke with Tom one summer afternoon while he worked in his Fraser Street apartment turned home workspace. I documented his process as he handmade a hat I recently ordered from his new brand,
Theme HC
.
Tom has always played around with the idea of having a clothing brand, but in recent years has felt less inclined to be one of many who are screening graphic tees. With the cause and effects of the climate crisis becoming more well known, Tom understands the wastefulness that comes with buying and selling "just another graphic tee". Instead, he felt compelled to focus on something that would test his current skill set, as well as reconsider a product that many people buy, but not necessarily think of the manufacturing process behind: hats. With the inspiration from Jamie having recently launched
Fyoocher
(see next) being met with the pandemic stay-at-home order, Tom's new creative endeavor quickly turned from an idea into a reality. With some guidance from Jamie, he took apart, and then reconstructed a few hats, quickly understanding the techniques and nuances involved in designing, cutting, sewing, and finishing hats.
Within the first few moments we found ourselves in a conversation about sustainability, and our impact we as humans have on the planet, a topic very frequently on my mind (as my students and friends could definitely attest to). This was one of the main reasons I wanted to meet with Tom, paired with the simple curiosity of what it takes to produce a hat.
We talked about the need for the fashion industry to change. Prior to the pandemic, there was a real momentum building with brands and companies making notable steps towards a climate conscious future. Yet, big brands and mass production still seems to be the norm as a focus on "single-use" being terrible has now slightly shifted back towards "safety". We imagined the ideal state of fashion consumption, where buying 'small batch' is commonplace. Hat from your local hat-maker, pants and a jacket from the sewer down the road, and shoe repair becoming the norm again. This also adds an opportunity to develop local styles directly influenced by the people and resources locally available to us.
As we chatted about the industry, Tom steadily and carefully put in work on the hat. It started with a few cuts of end-of-the-roll fabric he found locally. An important theme (not just a clever name) of this company, is Tom's focus on using fabric that would otherwise be left to collect dust on a shelf or thrown into the trash. He explained that some of the rolls of fabric had water damage, but instead of letting the manufacturer toss it away, he selects near perfect sections to make the panels for the crown of the hat.
He explained that the majority of this learning process has been collaborative, and that he has really enjoyed pushing his understanding of the manufacturing side of creating a garment start to finish.
Tom jumps between the kitchen table and the sewing machine, sharing stories of the people he's learned from and the experience of being totally puzzled by any given technique in his new craft. Now, a few months in, he's comfortable at his stations that hold the multiple machines it takes to produce a single hat. He moves with precision, like he's been working on these for years.
Halfway through the process, his keen eye noticed a tiny water stain on one of the panels. He quickly pivoted to remove the panel and re-stitch the hat together. Tom holds his process to a high standard, the high visible and tactile quality of his pieces can surely be attributed to this attention to detail. For some, it may be hard to justify the higher price tag that comes with shopping sustainably and locally, but, knowing that it is being produced down the street, by the hands of a local, using recycled materials, is worth the cost. Not to mention the limited nature of these hats.
One of his newest designs (and my personal favorite) comes from a rain proof fabric, co-designed with MENU skateshop, perfect for the wet winter we are so accustomed to.
A hat needs to be a delicate balance of form and function. When someone finds a way to heighten both of those elements, with the addition of also being sustainable and local, you better get one on your head, soon.
Keep an eye on the Theme
website
and
instagram
as Tom releases new hats and fabrics all the time.
I met up Jamie a few weeks after shooting photos with Tom in their Fraser Street apartment. I drove out to Deep Cove where she is hand-making her pants these days. After being welcomed into her family home, I was invited downstairs to check out the workspace. "This is where my studio used to be..." Jamie shared as she pointed to a tiny storage space just past the living room as we headed down to the lower level, her father waving hello as I smiled through my mask, "...and this used to be my childhood bedroom", she laughed gingerly while she invited me into her workspace and proceeded to grab some material she had been cutting.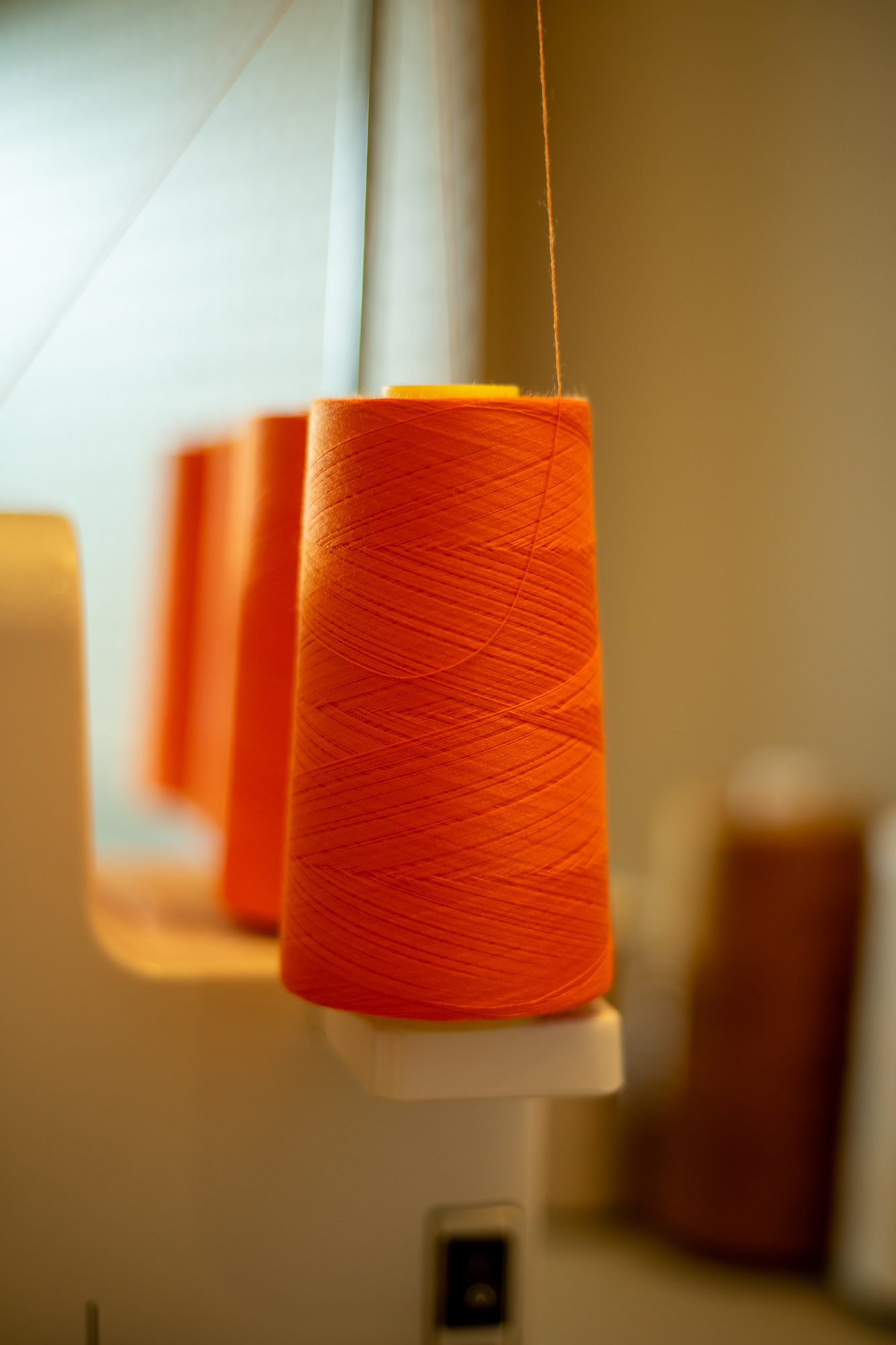 I put my things down and before I could get my camera set up, Jamie was already getting to work. She jumped from machine to machine and back again to the cutting table in a steady, mesmerizing rhythm of measuring, cutting, and sewing as she started to assemble a pair of men's cords. We talked in between the clatter of the Brother Syncher, enthusiastically leading me through some of the short but meaningful history of the young brand.
She left her job early in 2020, looking to finally make the leap into entrepreneurship so she could have full control of the meaning, vision, and direction of a brand she could call her own. With a background in fashion design, and work experience at a couple of large vancouver brands, she witnessed some of the common problems within corporate structures. It became clear to her the way some companies compromise their values when met with an opportunity to make more money. As an individual who truly cares for the environment, Jamie was torn. She decided to quit and carve her own path. With the onset of the pandemic, it was a step into the unknown, to say the least.
Jamie's goal is to produce entirely sustainable clothing. From fabric to manufacturing,
Fyoocher
intends to be different from the rest, truly embracing the spirit of the name. The first images released by the brand were pants and a jacket made from large vinyl billboards of designer clothing brands that were destined for the garbage. They were vibrant, loud, and different, appropriately sending her on the right trajectory. Since then, she has been releasing new styles every few months using many different fabrics she personally finds around the city. Again, sustainable clothing and the desire to produce and purchase with a purpose saturated the first half hour of our conversation as I watched her upcycle her current selection of deadstock fabric into a beautiful pair of cords.
Observing Jamie work through her process, I found myself mesmerized, losing track of questions I had planned to ask. She explained to me that starting a brand by yourself is about much more than the technical know-how of making a product (especially through a pandemic). It's also about learning a gamut of entrepreneurial skills – web design, e-commerce, marketing, collaboration, and producing photoshoots are all pieces of the puzzle Jamie has had to learn and refine since Fyoocher's inception. She thankfully expressed how important it has been to have friends and loved ones guide and support her when she needs it.
What I admired most through our conversation, was Jamie's endless desire to learn and her willingness to face new challenges. Even while detailing the personal challenges she has faced in starting her own brand, not once did Jamie waver from her light-hearted perspective and appreciation of how to learn from her mistakes, and the importance of finding personal growth within it all. It's a skill that may not be part of any formal curriculum I face at school, but it is definitely a quality I'd like to highlight for the next generation of thinkers, makers, and problem solvers of the FYOOCHER.
I'm often asked what I look for when taking photos of people on the street. Among the many things that catch my eye, I often find inspiration in seeing the people of our community express themselves in ways I've never seen before. DIY and thrifting have been a staple of unique style. More and more, we're also seeing people prioritize their community by shopping local – an emerging way to not only express your unique style, but also support your neighbours.
Brands today often sell fake exclusivity, "limited" releases plague the industry, manufacturing hype for goods to be bought and sold and resold by the masses. I would argue this, buying local and sustainable is the real exclusivity. The garments made by Tom and Jamie, being manufactured from a limited supply of deadstock material, are not only exclusive, they're making a difference. Only a handful of each style will be created and they are custom made for each order.